---
---
2022-23
2021-22
2019-20
2018-19
2017-18
2016-17
2015-16
2014-15
2012-13
Sports Report 2022-23
Discipline
Event
Remarks
Rifle Shooting
District School U-14 Boys & Girls Championship
Winner
Rifle Shooting
District School U-17 Boys & Girls Championship
Runners-up
Taekwondo
District school U-14 Boys & Girls Championship
Winner
Taekwondo
District School U-17 Boys & Girls Championship
Winner
Taekwondo
District School U-19 Boys & Girls Championship
Runners Up
Taekwondo
Divisional School Championship
Gold Medal - 2
Silver Medal - 2
Bronze Medal - 7
Taekwondo
State School Championship
Participation
Taekwondo
Junior state Championship
Gold Medal - 1
Taekwondo
Junior National Taekwondo Championship
Gold Medal
Volleyball
District School U-17 Boys & Girls Championship
Winner
Volleyball
District School U-19 Boys championship
Winner
Volleyball
Divisional School Championship
Runners-up
Volleyball
Divisional School U-17 Boys Championship
Winner
Volleyball
Divisional school U-17 Girls Championship
Third Place
Volleyball
State School U-17 Boys Championship
Winner
Volleyball
Junior National Championship
Participants - 5
Athletics
District School U-14 Boys& Girls Championship
Winner
Athletics
District School u-17 Boys & Girls Championship
Winner
Athletics
Divisional School U-14 Boys & Girls Championship
Winner
Athletics
Divisional School U-17 Boys& Girls Championship
Winner
Athletics
Divisional School U-19 Boys & Girls Championship
Winner
Athletics
District School U-14 Boys Championship
Participation
Athletics
District School U-14 Girls Championship
Participation
Athletics
District School U-17 Boys Championship
Participation
Athletics
District School U-19 Boys Championship
Third Position
Athletics
State School Athletics Meet Boys & Girls
Gold Medal - 6
Silver Medal - 3
Bronze Medal - 1
Athletics
Federation State Athletics Championship
Gold Medal - 6
Silver Medal - 4
Bronze Medal - 1
Athletics
West Zone National Championship
Gold Medal - 4
Silver Medal - 1
Athletics
Junior National Championship
Gold Medal - 2
Bronze Medal - 1
Boxing
District School Championship
Gold Medal -13
Silver Medal - 7
Bronze Medal - 3
Boxing
Divisional School Championship
Silver Medal - 1
Bronze Medal - 3
MES Sports
MES Inter School Sports Championship
Third Position
HOCL School, Rasayani has Declared itself as a Fit India School
Congratulations for Outstanding Performance in Sports
HOCL School and HOC International School, Rasayani has been rewarded a cash prize of Rs. 1.25 lac by the Govt. of Maharashtra, District Sports Officer, Raigad for the "Outstanding Performance in Sports".
Sports Report 2017-18
Master Venkatesh Raja: Std. IXth student of HOCL School won Silver Medal at Sub Junior National Boxing Championship held at Bhiwani (Haryana).
Master Venkatesh Raja is receiving the best achievers award from Legend Mr. Dhanraj Pillay
---
State School Wt. Lifting Championship 2017-18
Vaishnavi Pawar won Silver Medal for HOCL School
The power lifting champion of HOCL School (CBSE) Ms. Vaishnavi Pawar (Std. XII) made her maiden entry in to the State School Wt. Lifting championship and won Silver medal. The First timer Vaishnavi equalised the weight (80 Kg) lifted by her opponent from Amravati division and the decision for the first and second position took by weigh of body weight among tied competitors. Ms. Vaishnavi was 200 gm more than her opponent settled with Silver medal.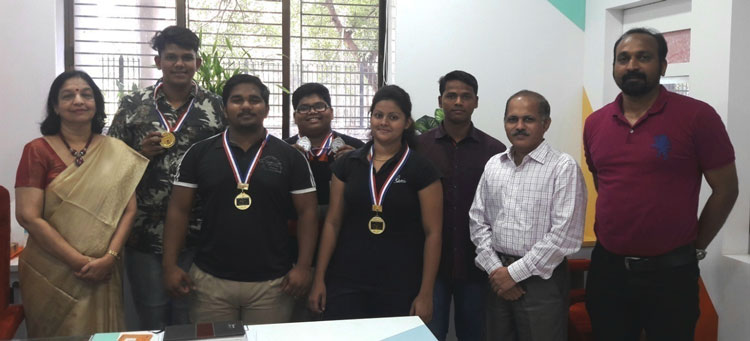 State Gold medal winning Wt. Lifters with Dy. CEO Dr. Lata Menon
---
HOCL (CBSE) Boys (U-19 yrs) Team won Gold at Mumbai Div. Volleyball Championship
Pillai HOCL (CBSE) School under 19 yrs boys Volleyball team won Gold Medal at Mumbai Divisional Volleyball Championship at Shahad on 7th – 8th October, 2017. All the fourteen Educational districts of Mumbai zone participated in the tournament on their way to the title HOCL (CBSE) beat Mumbai (25-17, 25-22) and in the finals HOCL (CBSE) beat Mumbai suburb (25-12, 25-10). The team won the district title while representing Khalapur Taluka never lost any sets to any team throughout the tourney. Sachin Tripati, Ashutosh Sinha, Furkhan Jalil and setter Rwitik played excellently well for the team.
HOCL (CBSE) Under 19 years Volleyball boys Mumbai Division winning team
---
HOCL (CBSE) School won the Taekwondo District Title
Pillai HOCL School won the Raigad District School Taekwondo title by winning 26 Gold medals, 12 Silver medals and 6 Bronze in Under 14, 17 & 19 boys and girls categories. The tournament held at New Horizon Public School, Panvel. The winners represented the district in the Mumbai zone and won medals at divisional championship.
The Raigad district title winning Fighters (Taekwondo) with their coach Sachin Mali
---
Sports Report 2015-16
---
Sports Report 2015-16
Sports Report 2014-15
Event
Tournament
Number of Participants
Position
Volleyball
U-19 D.S.O. District Championship
07 Boys
Winner
U-19 D.S.O. Division Championship
07 Boys
Runner-Up
S.G.F.I. National Championship
01 Boy
Participation
Sub-Junior State Championship
01 Boy
Participation
Senior State Championship
01 Boy
Participation
Taekwondo
U-12 Distric Association Championship
05 Girls / 06 Boys
Gold-01, Silver-03, Bronze-02
U-15 Distric Association Championship
01 Girls / 06 Boys
Gold-05, Silver-02, Bronze-00
D.S.O. District U-14 Championship
15 Girls / 20 Boys
Gold-04, Silver-02, Bronze-06
D.S.O. District U-17 Championship
02 Girls / 15 Boys
Gold-05, Silver-01, Bronze-02
D.S.O. District U-16 (Rgkka) Championship
00 Girls / 04 Boys
Gold-03, Silver-01, Bronze-00
D.S.O. Divisional U-16 (Rgkka) Championship
00 Girls / 03 Boys
Gold-03, Silver-00, Bronze-00
D.S.O. Divisional U-17 Championship
00 Girls / 05 Boys
Gold-00, Silver-02, Bronze-02
D.S.O. Divisional U-14 Championship
01 Girls / 03 Boys
Gold-00, Silver-02, Bronze-01
D.S.O. State U-16 (Rgkka) Championship
00 Girls / 03 Boys
Gold-00, Silver-03, Bronze-00
U-12 State Association Championship
01 Girls / 00 Boys
Gold-00, Silver- 00, Bronze- 00
U-15 State Association Championship
00 Girls/ 05 Boys
Gold-00, Silver-02, Bronze- 01
Hockey
D.S.O. District U-17 Championship
16 Girls/ 16 Boys
Winner
D.S.O. District U-19 Championship
16 Girls/ 16 Boys
Winner
D.S.O. District Nehru Cup U-17 Championship
16 Boys
Winner
D.S.O. Mahila Championship
16 Girls
Winner
D.S.O. Divisional U-17 Championship
16 Girls/ 16 Boys
Boys- Bronze, Girls -Silver
D.S.O. Divisional U-19 Championship
16 Girls/ 16 Boys
Boys- Bronze, Girls -Silver
D.S.O. Divisional Nehru Cup U-17 Championship
16 Boys
Boys- Silver
D.S.O. Mahila Divisional Championship
16 Girls
Girls- Silver
Throwball
D.S.O. District U-17 Championship
12 Girls
Winner
D.S.O. Divisional U-17 Championship
12 Girls
Semi Final
Mes Inter School U-17 Girls
10 Boys
Winner
Boxing
District School Championship
20 Boys & Girls
7 Gold, 05 Silver, 02 Bronze
Divisional School Championship
08 Boys & Girls
02 Gold, 04 Silver, 02 Bronze
State School
02 Boys
01 Bronze
District Jr. and Sub Jr. Championship
10 Boys& Girls
14 Gold, 01 Silver
State Level Sub Jr. Championship
08 Boys
01 Gold, 01 Silver and 01 Bronze
Basket Ball
Mes Inter School
U-14 Girls
07 Girls
Winner
Mes Inter School U-14 Boys
08 Boys
Winner
Mes Inter School
U-19 Girls
08 Girls
Winner
Football
District School Championship U-17 Girls
16 Girls
Semi Final
District School U-17 Boys
16 Boys
Semifinal
District School Championship U-19 Boys
16 Boys
Quarter Final
District School U-19 Girls
16
Runners -Up
Mes Inter School U-19 Girls
10 Girls
Winner
Mes Inter School Championship U-17 Girls
10 Girls
Winner
Mes Inter School Championship U-17 Boys
10 Boys
Runners-Up
Ahletics
Mes Inter School Athletics
70 Boys & Girls
Third
District School Championship
12 Boys & Girls
05 Gold, 03 Silver
Divisional School Championship
04 Boys
03 Gold, 02 Silver
State School Championship
03 Boys
02 Gold, 02 Silver, 01 Bronze
National School Championship
02 Boys
Participation
State School Federation
09 Boys
05 Gold, 03 Silver
West Zone Athletics
05 Boys
02 Gold, 02 Silver, 02 Bronze
Jr. National Athletics
04 Boys
Participation
Sports Report 2012-13
Event
Tournament
No. of Participants
Position
Athletics
District School
11
12 - Gold
11 - Silver
Athletics
Division Athletic
06
05 - Gold
05 - Silver
01 - Bronze
Athletics
State Jr.
06
03 - Gold
03 - Silver
Athletics
School State
04
02 - Gold
03 - Silve
Athletics
Gramin District
04
04 - Gold
Athletics
Gramin Division
04
03 - Gold
01 - Bronze
Athletics
Inter State West Zone
02
01 - Silver
01 - Bronze
Athletics
Jr. National
04
01 - 6th position
03 - participation
Athletics
School National
03
01 - 5th position, 02 participation
Athletics
Gramin State
02
01 - Silver
01 - Bronze
Athletics
Gramin National
02
01 - Finals
01 - Semifinal
Athletics
School District
44
09 - Gold
13 - Silver
09 - Bronze
Football
School Division
09
01 - Gold
05 - Silver
03 - Bronze
Football
School State
01
01 - Bronze
Football
Association Dsitrict
24
02 - Gold
06 - Silver
04 - Bronze
Football
Jr. State
02
01 - Gold
Football
Jr. National
01
Semifinals
Hockey
CBSE National Meet
10
01 - Bronze
Hockey
School District (U - 17 boys & girls) U - 19 boys)
36
03 - Team Winners
Hockey
Gramin District
24
02 - Team Winners
Table tennis
Women District
06
Winner
Taekwondo
Gramin Division
12
01 - Team Winners, 01 - Runners-up
Taekwondo
State Gramin
06
Participation
Taekwondo
National Gramin
02
Participation
Taekwondo
State School
01
Participation
Taekwondo
National School
01
Participation
Taekwondo
Jr. State
04
Participation
Taekwondo
Sr. State
07
q/f
Throw ball
State Chatrapati Cup
03
Participation
Throw ball
School District (U - 19 & girls, U -17 boys)
20
02 - Team Winners
Volleyball
School Division
12
4th position
Volleyball
District School (U - 14, U - 17, U - 19 boys & girls)
36
02 - Winner
Volleyball
Nehru Cup Jr. Hockey
16
Semifinals
Volleyball
Division
16
01 - runner up
Volleyball
District
16
Participation
Volleyball
Subrato Cup District Football
16
Semifinals
Volleyball
Divisional Schools
02
Semifinals
Volleyball
MES Inter School
32
u - 14 girls - 3rd position, U - 19 girls – runner-up
Volleyball
Gramin District
16
Semifinal
Volleyball
MES Interschool
32
U - 14 girls
– runner-up
U - 14 boys – Runner-up
U-19 boys Runners-up
Volleyball
MES Interschool
03
Participation